All About the Webmistress, Andie

Hello, I am Andie. My full name is Andrea Michelle, and I was born in the boring state of Ohio. Despite all of that, I haven't had a boring childhood or personality. I am the only "Eyre-Head"(Jane Eyre Fan) that I know personally, but I am only of many Rentheads(Fans of Rent), and Les Miserables fans. I spend the majority of my life at the Davis Discovery Center, a place where kids and teenagers get to partake in the performing arts and have a wonderful time making fools of ourselves. Though I am apt to deceive my teachers, I am not normal. I am the abnormal Honor Student; in other words, outcast of outcasts. Some how I manage to find tons of friends though.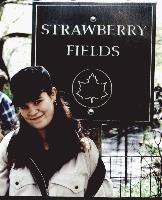 A picture of me at Strawberry Fields in Cnetral Park from last spring.

I have a passion for the past. History is by far my favorite subject. Honors English and Latin coming up tied as close seconds. I love historical fiction and classic books. My main time period of study is the Victorian Era, though I am very interested in the Elizabethan Era and the Ancient World. My favorite books are mostly classics, including Jane Eyre by Charlotte Bronte and To Kill A Mockingbird by Harper Lee. I also like fantasy books by Tamora Pierce, mysteries by Laurie King and the majority of Shakespeare's plays.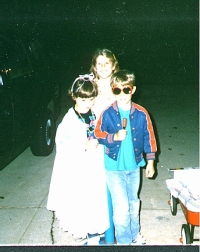 Though most children don't get married so young, my next door neighbor decided that her younger brother and me made the perfect couple. She of course had to be the perfect priestess. My mother was the Wedding photographer. Even as a child, I wasn't normal. How many little kids have such a glamorous wedding?

I love animals almost as much as I love theater. I have three cats right now named Murphy, Rainbow, and Sunshine. They are the sweetest kitties that have ever lived. Murphy is a black and white mischievous critter. Rainbow is the calico beauty of the house. Sunshine is our resident orange tabby, with motherly affection for the younger two and a unbelievable appetite.

Here is a picture of Murphy in our Christmas Tree.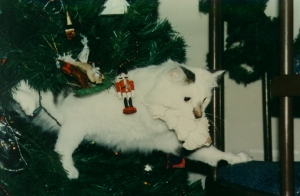 My Mom also likes cats and works with the International Society for Endangered Cats(ISEC). She is a keeper for one of ISEC's educational animals: Bunga. Bunga was found, sadly abused, in the home of a drug pusher. The police did a drug raid and gave Bunga to ISEC while they pit the pushers in jail. Since then he has lived a happy life with ISEC. He goes on Educational talks to schools and zoos, and has a place in many ISEC members' hearts.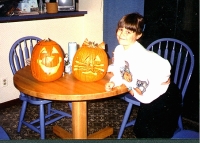 This is a picture of me in 3rd Grade during Halloween. I was a cute little kid, if I do say so myself. :o)

On the topic of cute little children, my cousins are the cutest kids to ever walk the face of this Earth. Here is a picture of them and me together from last summer. The one with the goofy gasp is me, the laughing girl is Emily, and the giggling boy is Ben.Unfortunately, they live on the other side of the country, so I don't see them as often as I would like.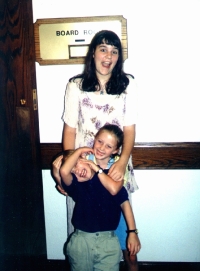 That is about all for me right now, if you want you may