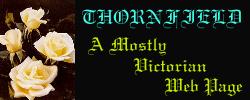 Thornfield is a site that has risen out of the ashes of Andie's Home Page. It was named for the Great Hall in Charlotte Bronte's Jane Eyre and is devoted to mostly Victorian things. All I hope is that my html skills have improved and that this site has some worthy information.

Last Update: August 3, 1999 5:50 PM EST

What was Updated: I had added part of the summer awarding of Kermit's 3 Piece suit award, which finally came out of its depression.

Plans for the Future: I have given up the concept of a Jane Austen page, and I have decided that I would much prefer a section devoted to impressionistic paintings.

Join my Victorian Literature List

Click to subscribe to victorianlit



A site devoted to everything and anything having to do with Charlotte Bronte's Classic Novel.




A site full of Victorian Angels and a place where you can send e-mail greeting cards to other people!



A collection of Novels you can read online and inforation on Victorian Authors.




A list of Quotations by people who lived durring the Victorian Era.




Kermit's 3 Piece Suit Award comes from my old page, I couldn't bear to part with it. It is an award that goes to well-made webpages. Look at the sites that have won and nomminate another site.



A page all about me, if you were wondering who I was.




A section of Links, some are relevant to this site, others are not.